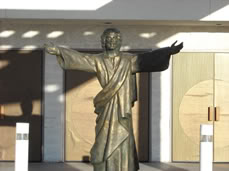 "He delivered us from the power of darkness and transferred us to the kingdom of his beloved Son, in whom we have Redemption, the forgiveness of sins."
- Col. 1:13-14
The Shrine was dedicated to the greater honor and glory of God and for the salvation of his people. It was named the Shrine of the Most Holy Redeemer as a proclamation that Jesus Christ is our Lord and Savior...and that he lives with us always and everywhere.

Every year Las Vegas has about 42,300,000 visitors from all over the globe. Somewhere between five and six million of our visitors are Catholics.


Catholics are very special people when it comes to religion. No matter where we go we take our faith and religious practices with us. We expect to join in the celebration of the Sunday Liturgy and to have the other sacraments available to us no matter where we may find ourselves. We take it for granted that the local Church will provide all the facilities and personnel necessary to meet our religious needs.


In the case of Las Vegas that is no easy task. Even with an enlarged Cathedral at the north end of the strip we were unable to serve the growing number of destination resorts being planned for the south end of the strip.


Dedicated on the Feast of the Presentation of the Lord (Feb. 2nd) 1993, this 2,200 seat Church was largely funded by individual and corporate donations of the people of Las Vegas. It is our way of saying that you are most welcome in our community.


We hope that when you come and visit the Shrine that you have a happy and holy experience.

**The Shrine is NOT a Parish, therefore CANNOT administer or celebrate
the sacraments of Baptism or Holy Matrimony **